Answer
Small-bowel obstruction (SBO) is caused by a variety of pathologic processes. The most common cause of SBO in developed countries is intra-abdominal adhesions, accounting for approximately 65% to 75% of cases, followed by hernias, Crohn disease, malignancy, and volvulus. [1] In contrast, SBO in developing countries is primary caused by hernias (30-40%), adhesions (about 30%), and tuberculosis (about 10%), along with malignancy, Crohn disease, volvulus, and parasitic infections. [2] The general trend in developing countries is an increased incidence of SBO from adhesions, with a higher incidence of laparotomies. See the image below.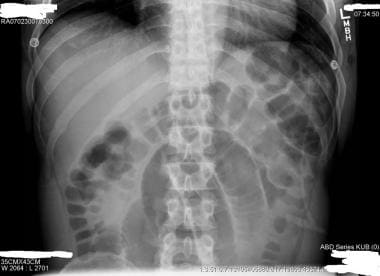 Small bowel obstruction. Image courtesy of Ademola Adewale, MD.
---
Did this answer your question?
Additional feedback? (Optional)
Thank you for your feedback!