Answer
Presently, no specific treatment exists to ameliorate the tissue damage and reduce the vulnerability to infection induced by smoke inhalation. Administer 100% oxygen because of the likelihood of carbon monoxide (CO) inhalation in fires. Once CO toxicity, cyanide (CN) toxicity, and methemoglobinemia have been addressed, subsequent treatment is predominantly supportive.
The most urgent concern in patients is the patency of the upper airway and adequacy of ventilation. Check for exposure to heat and thermal injury to the nose, mouth, face, and singed hair. Consider smoke involvement if soot is on the face and in sputum, although smoke inhalation is possible without evidence of soot. The proportion of patients with an inhalation injury who require endotracheal intubation is higher for those who also have a burn injury: 62% with a burn versus 12% without a thermal injury and the incidence of inhalation injury increases with the size of the burn. [2] See the image below.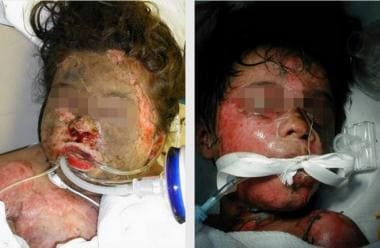 Smoke inhalation in pediatric victims. Note the many hallmarks of smoke inhalation complexed with burn injury (ie, facial burns, carbonaceous particles in the nasal cavity, periorbital edema, hair singeing). Early endotracheal tube placement is necessary to secure patency of the upper airways and adequate ventilation.
It is of vital importance that the magnitude of the swelling in the areas of the face and mandible be closely scrutinized when making decisions about the need for an artificial airway. The threshold for intubation should be lower than in other patients due to the potential of rapid development of airway edema. This is especially true of the pediatric patient. When upper airway injury is suspected, elective intubation should be considered because progression of edema over the next 24-48 hours may make later intubation difficult if not impossible.
If systemic paralysis is necessary for intubation, succinylcholine can be used safely in the immediate post-burn phase and up to several days afterward, although one should be cognizant of the possibility of a rise in serum potassium. Inflate the tube cuff to minimal levels, even allowing a small leak, in order to prevent iatrogenic tracheal damage in patients with an already compromised tracheal mucosa.
Patients whose injury involves cutaneous burns have ongoing circulatory derangements. Fluid loss through burned areas from intense inflammation with vasodilatation and capillary leak or from the subsequent infectious complications necessitates large fluid volume resuscitation. Large-bore IV catheter access may be needed to facilitate fluid resuscitation.
Use formulas (eg, Parkland) to calculate fluid resuscitation if severe burns are present. Even minor errors in estimation of body surface area; burned surface area; and fluid, electrolyte, and protein requirements can produce profound hemodynamic and respiratory compromise. Frequent evaluation of heart rate, perfusion, and blood pressure are needed to determine stability and guide therapy.
In mass casualty scenarios, the use of fiberoptic bronchoscopy may be beneficial to rapidly triage patients to intensive care, ward, or observation status. Mobilization of otolaryngology and/or anesthesia resources may be necessary to accomplish this in a timely fashion.
---
Did this answer your question?
Additional feedback? (Optional)
Thank you for your feedback!