Answer
When an arc of current passes from an object of high to low resistance, it creates a high temperature pathway that causes skin lesions at the site of contact with the source and at the ground contact point (not always the feet). These areas typically have a dry parchment center and a rim of congestion around them. There will be clues to the internal pathway taken by the arc based on the location of these surface wounds. Arcs can also cause electrothermal, flash, and flame burns, so multiple burns of varying appearance may be observed. Arcs do not occur in low-voltage injuries. An arc burn is shown below.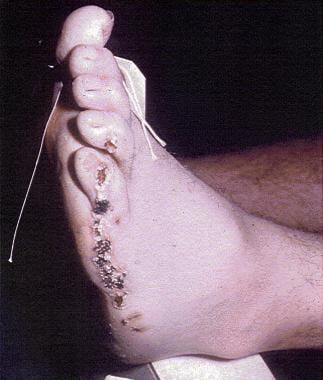 Arcing electrical burns through the shoe around the rubber sole. High-voltage (7600 V) alternating current nominal. Note cratering.
---
Did this answer your question?
Additional feedback? (Optional)
Thank you for your feedback!