Answer
Typically, these show a contact point where the person touched the circuit and a ground point. These may produce significant damage to underlying tissue while largely sparing the surface of the skin. These burns may appear as painless, depressed areas with central necrosis and minimal bleeding. The presence of surface burns does not accurately predict the extent of possible internal injuries, as skin with high resistance will transmit energy to deeper tissues with lower resistance. A high-voltage burn is shown below.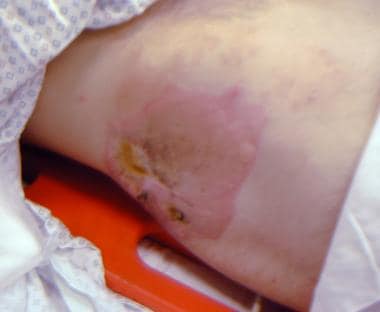 High-voltage electrical burns to the chest.
---
Did this answer your question?
Additional feedback? (Optional)
Thank you for your feedback!