Answer
Current passing directly through the body will heat the tissue causing electrothermal burns, both to the surface of the skin as well as deeper tissues, depending on their resistance. It will typically cause damage at the source contact point and the ground contact point. Contact burns are shown in the image below.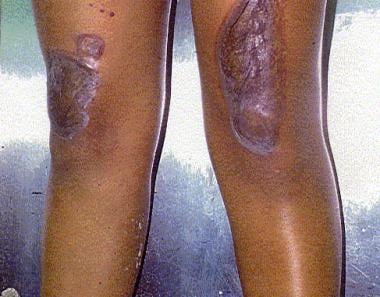 Contact electrical burns, 120-V alternating current nominal. The right knee was the energized side, and the left was ground. These are contact burns and are difficult to distinguish from thermal burns. Note entrance and exit are not viable concepts in alternating current.
---
Did this answer your question?
Additional feedback? (Optional)
Thank you for your feedback!