Answer
Electrical injuries, although relatively uncommon, are inevitably encountered by most emergency physicians. Adult electrical injuries usually occur in occupational settings, whereas children are primarily injured in the household setting. The spectrum of electrical injury is broad, ranging from minimal injury to severe multiorgan involvement to death.
Electrical injuries are shown in the images below.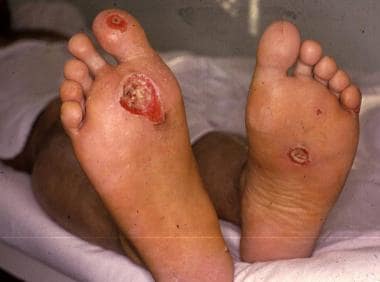 Grounded sites of low-voltage injury on the feet.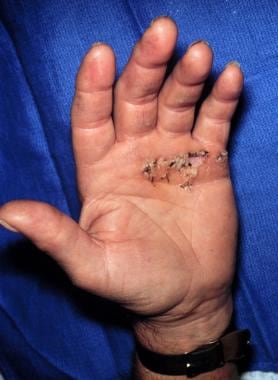 Electrical burns to the hand.
Approximately 1000 deaths per year are due to electrical injuries in the United States, with a mortality rate of 3-5%. [1] Classifications of electrical injuries generally focus on the power source (lightning or electrical), voltage (high or low voltage), and type of current (alternating or direct), each of which is associated with certain injury patterns.
This article reviews the pathophysiology, diagnosis, and treatment of electrical injuries caused by manufactured electricity; for further information on lightning injuries, please see Lightning Injuries.
---
Did this answer your question?
Additional feedback? (Optional)
Thank you for your feedback!