Answer
The need to be aware of diseases transmitted by insect bites is crucial; Lyme disease, transmitted by ticks, and malaria, transmitted by mosquitoes, are discussed in other articles (see Tick-borne Diseases, Lyme; Malaria).
Chagas disease, increasingly found in the desert southwest and in persons residing in or traveling to Central America or South America, should be considered, particularly when the bite site is on the soft skin of the periorbita or lips. [9] The kissing bug (see below) can be a vector for this infection. Because this infection may produce an acute and chronic illness with notable morbidity and mortality, especially in pediatric patients, clinicians should maintain a high index of suspicion (see Trypanosomiasis).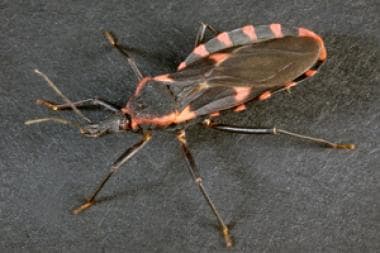 Kissing bug (Triatoma sanguisuga) can be a vector for Chagas disease. Image courtesy of US Centers for Disease Control and Prevention.
Mosquito and tick-borne encephalitides such as those produced by the eastern equine virus or the West Nile virus also should be considered in patients presenting with meningismus (see Encephalitis).
Of note, some illnesses transmitted by insects do not produce symptoms until long after the infecting bite. In South America and parts of Africa, blackflies (Simuliidae) are responsible for transmission of onchocerciasis. This illness is also known as river blindness and eventually can produce blindness years after the initial infection. This disease is extremely rare in the United States. Chagas disease, a leading cause of cardiomyopathy in the world, may present latently as well. Obtaining a history of international travel is important because this information can lead to a diagnosis that would otherwise be overlooked. Determining the destination, time of year, length of stay, and time since travel are all important pieces of history to obtain.
Exposure to arthropods may produce dermatitis, cellulitis, urticaria, or blistering unrelated to biting or stinging. Some species of moths, caterpillars, centipedes, beetles, and spiders have urticating hairs or secretions that can cause cutaneous irritation. For further information, please refer to the respective articles on these exposures (see Differentials).
An uncommon occurrence in North America is myiasis by fly larvae. Fly larvae enter the host through varying mechanisms ranging from oviposition of live, burrowing larvae on the host, on or near open wounds, to attachment to other bloodsucking insects. While not generally the result of an insect bite, myiasis can produce pustules and lesions similar to insect bites. These lesions generally contain one or more developing fly larvae. Severe cases of myiasis can cause seizures.
Plant-eating phytophagous insects can bite in self-defense, and their bites are not predatory. This article is limited to discussion of organisms that bite to feed on blood or to catch prey.
---
Did this answer your question?
Additional feedback? (Optional)
Thank you for your feedback!