Answer
Many patients confuse an insect bite with a sting and may use the terms interchangeably. A bite is usually from mouth parts and occurs when an insect is agitated to defend itself or when an insect seeks to feed. Bites from mosquitoes, fleas, bed bugs, and mites are more likely to cause itching than pain.
See the image below.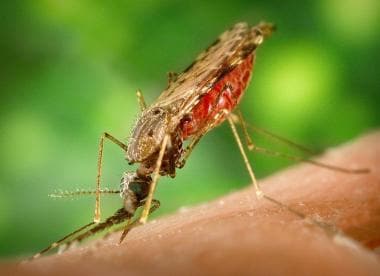 Anopheles albimanus mosquito feeding on human host. Image courtesy of US Centers for Disease Control and Prevention.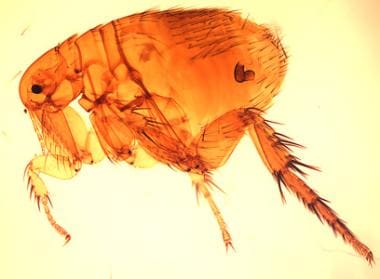 The Oriental rat flea (Xenopsylla cheopis). Image courtesy of US Centers for Disease Control and Prevention.
A stinging apparatus is usually a sharp organ of offense or defense, especially when connected with a venom gland, and adapted to inflict a wound by piercing, as the caudal sting of a scorpion. The stinger is typically located at the rear of the animal. Animals with a stinger include bees, wasps, hornets, and scorpions.
Hymenoptera [1]
Most stinging insects are of the order Hymenoptera, which is made up of multiple families, including 3 that are clinically important: Apidae (bees), Vespidae (wasps), and Formicidae (ants). Bees have barbed stingers that disengage, causing them to die after a single sting. Wasps, hornets, and yellow jackets (Vespidae family members) do not have barbed stingers and, as such, can sting multiple times. [2]
See the image below.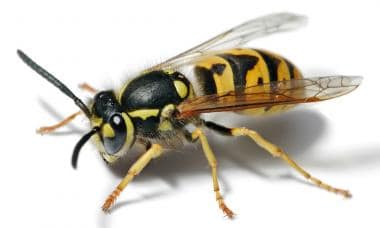 Yellow jacket wasp. Image courtesy of US Centers for Disease Control and Prevention.
Since their introduction into the southern United States in the 1920s, imported fire ants anchor themselves with their mandibles and subsequently inflict a sting. Fire ants often pivot or re-anchor themselves only to sting again and again resulting in a sensation of fire at the site. When fire ants swarm, they often position themselves on their victim and sting simultaneously in response to an alarm pheromone released by one or several individuals. The response is very aggressive and results in cutaneous pustule formation from formic acid deposition. Immobilized or elderly patients can become rapidly covered by swarms of these ants, resulting in severe stings and even death (See Fire Ant Bites).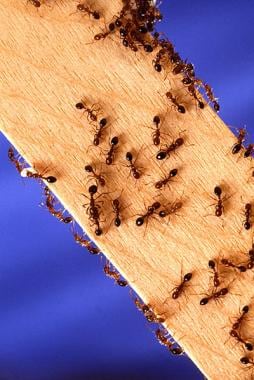 Fire ant (Solenopsis invicta). Image courtesy of Wikimedia Commons.
Hymenoptera stings result in more fatalities than stings or bites from any other arthropod.
Bites by classes Insecta
This article is limited to bites by insects and not arachnids. Stings by members of the order Hymenoptera and order Scorpionida are discussed in other articles, as are bites of venomous arachnids in the class Arachnida (spiders) and bites of the order Acarina (mites and ticks).
Injuries from exposure to millipedes (class Diplopoda), centipedes (class Chilopoda), and caterpillars (order Lepidoptera) also are discussed in other articles (see Differentials); however, many of the principles that guide diagnosis and treatment of insect bites also apply to bites and stings of these other organisms.
---
Did this answer your question?
Additional feedback? (Optional)
Thank you for your feedback!