Answer
Major resuscitation rarely is required. With children, reassurance and parental presence may facilitate examination. Where applicable, consider the following:
Distal neurovascular status

Tendon or tendon sheath involvement

Bone injury, particularly of the skull in infants and young children

Foreign bodies (eg, teeth) in the wound
Significant damage due to bites is shown in the images below.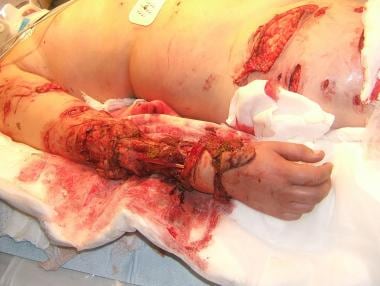 Animal bites. The devastating damage sustained by a preadolescent male during a dog attack. Almost lost in this photograph is the soft tissue damage to this victim's thigh. This patient required 2 units of O- blood and several liters of isotonic crystalloid. Repair of these wounds required a pediatric surgeon, an experienced orthopedic surgeon, and a plastic surgeon. Attacks such as these have caused a movement in some areas of the country to ban certain dog breeds.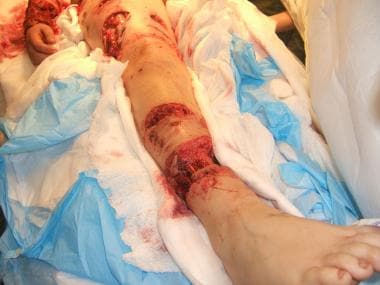 Animal bites. Massive soft tissue damage of the right leg caused by a dog attack. This patient was transferred to a level one pediatric trauma center for care. At times, staff members may need counseling after caring for mauled patients.
---
Did this answer your question?
Additional feedback? (Optional)
Thank you for your feedback!