Answer
The main advantages of needle aspiration are ease of the procedure, decreased pain for the patient, and cost-effectiveness. [9, 2]
The patient should be sitting upright.
Lidocaine with epinephrine should be used to anesthetize the area.
A 16- to 18-gauge needle with a 10-mL syringe should be used to aspirate from the area that is most fluctuant.
A needle guard may be used to prevent accidental carotid artery puncture due to the tip of the needle migrating too far posteriorly. Only 0.5 cm of the needle needs to be exposed. If a needle guard is unavailable, a curved clamp can be used to expose a small portion of the needle before inserting it into the area for aspiration.
Aspirate at the superior pole initially, as this is the most common place for abscess development. Aspiration of the middle one third and then the lower one third should then be attempted if pus is not returned from the superior pole. Also, see Drainage, Peritonsillar Abscess.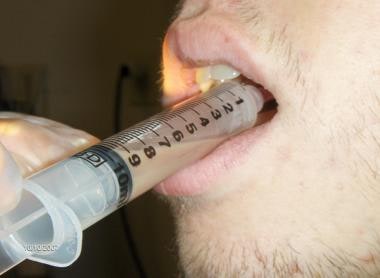 Pus is aspirated through a wide-bore needle from the right peritonsillar abscess. An additional incision will be made to drain any other pus pockets.
---
Did this answer your question?
Additional feedback? (Optional)
Thank you for your feedback!