Answer
Peritonsillar abscesses (PTAs) are common infections of the head and neck region, accounting for approximately 30% of soft tissue head and neck abscesses. With an incidence of about 1 in 10,000, PTA (see the image below) is the most common deep space infection of the head and neck that presents to the emergency department.
A study by Johnson using the 2012 Nationwide Emergency Department Sample, the 2012 National (Nationwide) Inpatient Sample, and the 2013 Nationwide Readmissions Database estimated the number of emergency department visits in the United States for peritonsillar abscess to be 62,787, with the estimated number of inpatient admissions and readmissions for the condition being 15,095 and 267, respectively. Eighty percent of the emergency department patients were discharged home after receiving nonoperative therapy, while 50% of the patients admitted to the hospital were treated surgically. [1]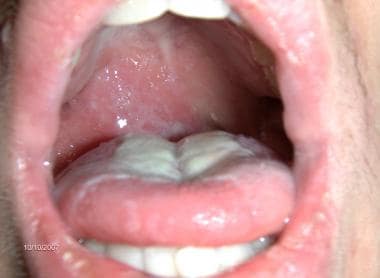 Right peritonsillar abscess. The soft palate, which is erythematous and edematous, is displaced anteriorly. The patient has a "hot potato–sounding" voice.
---
Did this answer your question?
Additional feedback? (Optional)
Thank you for your feedback!