Answer
Periodontal disease has been shown in some studies to be an associated factor in coronary artery disease (CAD) and cerebrovascular disease/ischemic stroke. [3, 4, 5, 6] Elevated levels of chronic inflammation (eg, C-reactive protein) have been shown to fall after treatment of periodontal disease. These elevated markers have clear association with vascular disease, so treatment of periodontal disease may theoretically have an impact on CAD and ischemic CNS disease. [7] However, a clear cause-and-effect relationship has not been demonstrated between treatment of periodontal disease and improvement of atherosclerotic diseases or outcomes. [8] A recent study that induced gingivitis in healthy volunteers was associated with a clear increase in inflammatory markers. [9]
A study by Sen et al that included data from 10,362 stroke-free participants, and 584 participants that had incident ischemic strokes over a 15-year period reported that periodontal disease was associated with cardioembolic (hazard ratio, 2.6; 95% confidence interval, 1.2-5.6) and thrombotic (hazard ratio, 2.2; 95% confidence interval, 1.3-3.8) stroke subtypes. The study also added that a lower stroke risk was associated with regular dental care utilization (hazard ratio, 0.77; 95% confidence interval, 0.63-0.94). [10]
A large study that enrolled 805 patients with a first myocardial infarction (MI) and 805 control patients without MI concluded that the risk of a first myocardial infarction was significantly increased in patients with periodontitis. The study found that 43% of MI patients vs 33% of matched controls had mild to severe periodontitis. After researchers controlled for smoking, diabetes, education, and marital status, individuals with periodontitis had a 28% increased risk of MI. [11, 12]
Periodontal disease in pregnancy has been associated with an increase in preterm birth and adverse pregnancy outcomes. [13] However, treatment of periodontal disease in pregnancy has not been shown to improve pregnancy outcomes. [14] Periodontitis coexisting with bacterial vaginosis is associated with higher vaginal bacterial counts. [15] Periodontitis in a person with diabetes has been associated with exacerbation of both conditions. [16, 17] Treatment of periodontitis in persons with type 2 diabetes has improved glycemic control. [18]
Severe periodontal disease, as shown in the image below, may occur.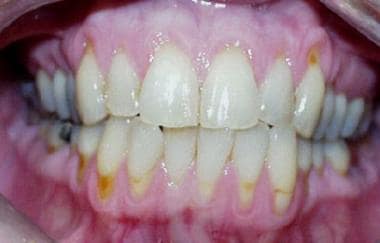 Severe periodontal disease. Loss of the gingival tissue is seen, making the teeth appear long. Even more effacement of the papillae is present. Heaped up ridges are observed in the areas overlying the roots. Image courtesy of Robert J. Lindberg, DMD.
Chronic gingivitis leads to tooth loss. ANUG may progress into the local soft tissues of the mouth, resulting in noma or cancrum oris, or may spread hematogenously to any other part of the body.
---
Did this answer your question?
Additional feedback? (Optional)
Thank you for your feedback!