Answer
Gingivitis is an inflammatory process limited to the mucosal epithelial tissue surrounding the cervical portion of the teeth and the alveolar processes. Gingivitis has been classified by clinical appearance (eg, ulcerative, hemorrhagic, necrotizing, purulent), etiology (eg, drug-induced, hormonal, nutritional, infectious, plaque-induced), and duration (acute, chronic). The most common type of gingivitis is a chronic form induced by plaque. Gingivitis is shown in the image below.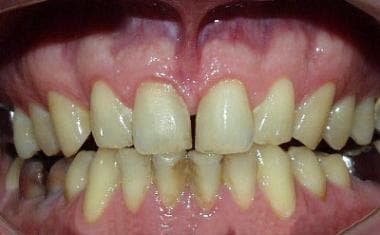 Moderate chronic gingivitis. Note that the papillae are edematous and blunted. They may bleed with brushing. Note areas of edema overlying some of the root areas. Pallor is seen in these areas. Image courtesy of Robert J. Lindberg, DMD.
Compare the image above to a healthy mouth, below.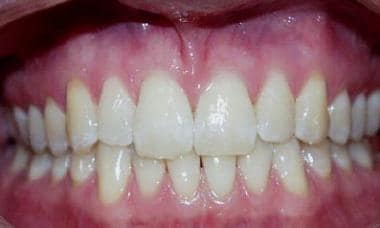 Healthy mouth and gingiva. Note the healthy light pink color of the gingiva. The interdental papillae are sharp and fill the interdental space. No local edema is present. Image courtesy of Robert J. Lindberg, DMD.
Acute necrotizing ulcerative gingivitis (ANUG, ie, trench mouth) is an acute infectious gingivitis. The term trench mouth was coined in World War I when ANUG was common among trench-bound soldiers.
---
Did this answer your question?
Additional feedback? (Optional)
Thank you for your feedback!