Answer
Atopic dermatitis is a spectrum of disease that varies in presentation, severity, and distribution. Eczema defies a simple definition as the disease has differing characteristics depending on the age of the patient and the stage of the disease course.
Lesions may be acute, subacute, or chronic, each with a characteristic appearance. Lesions from one stage can convert into another stage at any time due to processes such as manipulation, irritation, allergy, or infection. Acute lesions are intensely itchy and present as vesicles and blisters with intense redness. Subacute disease is characterized by slight-to-moderate itching, pain, stinging, burning and redness, scaling, and fissuring of the skin with a parched and scalded appearance. Chronic eczematous inflammation demonstrates thickened skin, accentuated skin lines, excoriations, and fissuring accompanying a moderate-to-intense itch.
The pattern of skin manifestations also differs across the lifespan. In infantile atopic dermatitis, pruritic, red, scaly, and crusted lesions are typically found on the extensor surfaces and cheeks or scalp, with severe cases possibly presenting with vesicles, serous exudates, or crusting. The diaper area is protected and usually spared.
See the image below.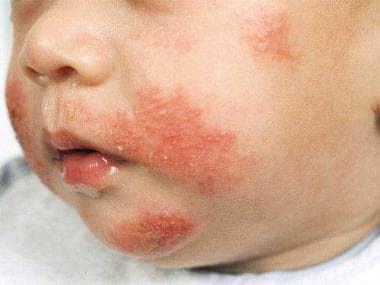 Irritation around mouth of an infant with atopic dermatitis.
The lesions in the childhood stage have less exudation; the skin often demonstrates lichenified plaques in a flexural distribution, commonly antecubital and popliteal fossae, volar aspect of the wrists, ankles, and neck. See the image below.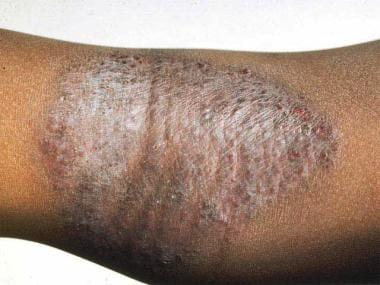 Flexural involvement in childhood atopic dermatitis.
Adult eczema has a similar distribution to that in childhood atopic dermatitis but is increasingly localized and lichenified with thickened skin, increased skin markings, and excoriated and fibrotic papules.
Certain characteristic patterns are worth mentioning.
Eczema that appears as one or several coin-shaped plaques is called nummular eczema.
Plaques with prominent skin lines are referred to as lichen simplex chronicus. These lesions are characterized by intense pruritus that ceases when pain replaces itch.
---
Did this answer your question?
Additional feedback? (Optional)
Thank you for your feedback!