Answer
Microscopic thrombosis is a normal part of the dynamic balance of hemostasis. In 1846, the German pathologist Virchow recognized that if this dynamic balance were altered by venous stasis or turbulence, abnormal coagulability, or vessel wall injuries, then microthrombi could propagate to form macroscopic thrombi.
In the absence of a triggering event, neither venous stasis nor abnormal coagulability alone causes clinically important thrombosis, but vascular endothelial injury does reliably result in thrombus formation. The initiating injury triggers an inflammatory response that results in immediate platelet adhesion at the injury site. Further platelet aggregation is mediated by thromboxane A2 (TxA2) and by thrombin. A more detailed visual of the coagulation pathway can be seen in the image below.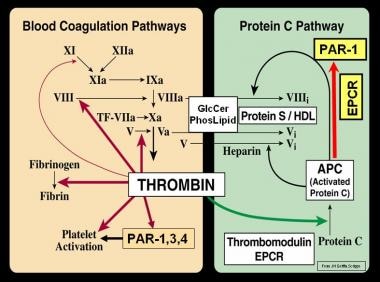 Blood coagulation (thrombin) and protein C pathways. Courtesy of Wikimedia Commons ©John H Griffin, PhD.
Platelet aggregation due to TxA2 is inhibited irreversibly by aspirin and reversibly by other nonsteroidal anti-inflammatory drugs (NSAIDs); thrombin-mediated platelet aggregation, on the other hand, is not affected by NSAIDs, including aspirin. This is why aspirin and other NSAIDs are somewhat effective in preventing arterial thrombosis, where platelet aggregation is mediated via TxA2, as seen in patients with stroke and myocardial infarction (MI), but are not very effective in preventing venous thrombophlebitis, where it is believed that clot formation is more of a result of thrombin activation.
---
Did this answer your question?
Additional feedback? (Optional)
Thank you for your feedback!