Answer
The procedure is performed either in an operating room with C-arm capabilities or in an angiographic suite. Local anesthesia with limited sedation is used so that the patient's neurologic status can be constantly monitored.
Femoral artery access is achieved and arch arteriography performed. The affected side is cannulated, and selective carotid arteriograms are then obtained (see the images below).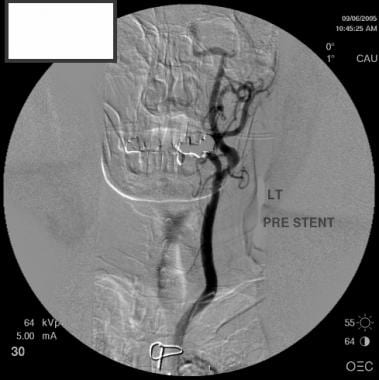 Selective left carotid angiogram.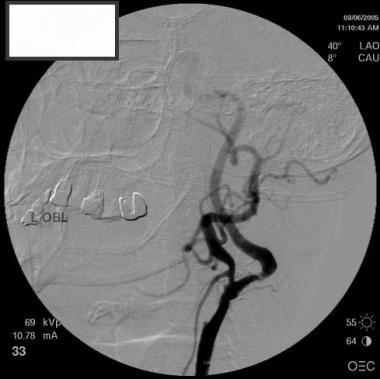 Oblique view of left carotid artery demonstrating lesion within internal carotid artery.
Next, a long sheath is placed over a wire into the common carotid artery, and a 0.014-in. filter wire is placed into the internal carotid distal to the lesion to provide embolic protection. After appropriate sizing, the lesion is quickly predilated with a small balloon. The stent is then placed and postdilated with a larger balloon. (See the images below.)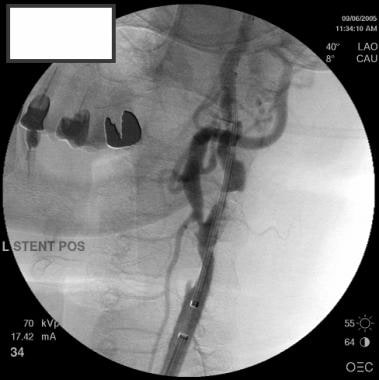 Placement of stent into internal carotid artery. Note filter wire in upper photos (dots at top of internal carotid artery).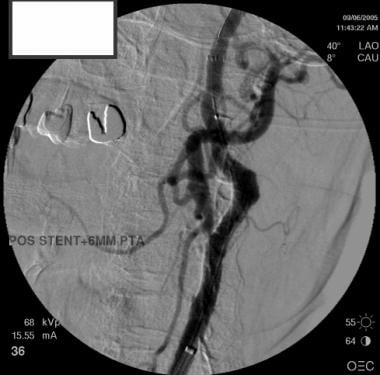 Angioplasty after stent placement; again, note filter wire protecting distal carotid artery.
Next, a completion arteriogram is obtained to confirm that the lesion has been treated and that no other abnormalities exist within the internal carotid or cerebral views (see the image below). The procedure is completed, and the access site in the femoral artery is typically closed with a closure device. The patient is usually monitored overnight and discharged the next day.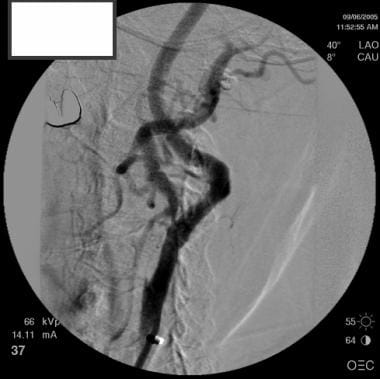 Completion arteriogram displaying improvement in diameter of internal carotid artery.
---
Did this answer your question?
Additional feedback? (Optional)
Thank you for your feedback!