Answer
Carotid duplex ultrasonography (US), with or without color, is the screening test of choice to evaluate for carotid stenosis. Many surgeons operate after seeing the results of a carotid duplex study alone if the laboratory has credentials and is validated. (See the images below.)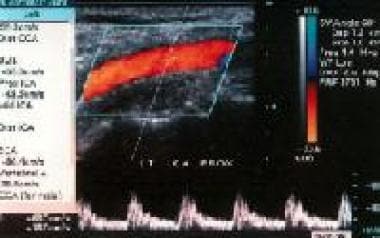 Normal carotid arteries on color flow duplex ultrasonography.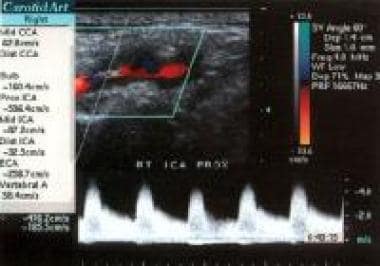 Color flow duplex ultrasonogram reveals 80-99% left carotid stenosis and normal right carotid.
In a study by van Engelen et al that used three-dimensional US to evaluate 298 patients with carotid atherosclerosis, changes in carotid plaque texture and volume were found to be strong predictors of vascular events (eg, myocardial infarction [MI], transient ischemic attack [TIA], and stroke). [20]
---
Did this answer your question?
Additional feedback? (Optional)
Thank you for your feedback!