Answer
Atherosclerosis is a degenerative disease of the arteries that results in the formation of plaques composed of necrotic cells, lipids, and cholesterol crystals (see the images below). These plaques can result in symptoms by causing stenosis, by embolizing, or by thrombosing. Atherosclerosis is a diffuse process with a predilection for certain arteries. This article describes the history and impact of this process as it occurs in the extracranial carotid artery.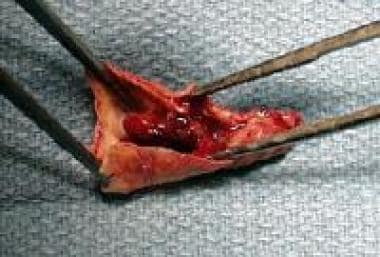 Carotid plaque.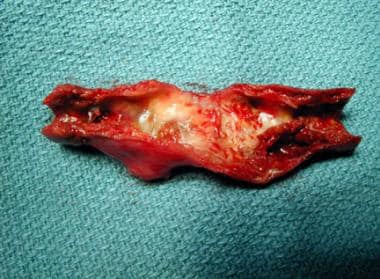 Atherosclerotic plaque removed at time of carotid endarterectomy (areas of ulceration with thrombus and intraplaque hemorrhage are present).
---
Did this answer your question?
Additional feedback? (Optional)
Thank you for your feedback!