Answer
The principal options for endovascular therapy today are stenting, percutaneous transluminal angioplasty (PTA), thrombolysis, or some combination thereof. In most patients with SVCS, stenting of the SVC provides rapid symptomatic relief within few days (see the images below).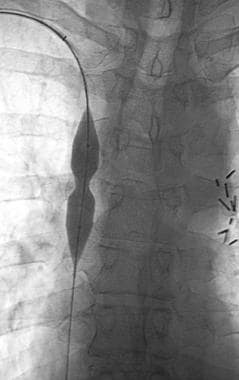 Superior vena cava syndrome (case 1, continued). Palmaz P308 stent mounted on 12-mm balloon was deployed in superior vena cava after it was predilated to 8 mm. Stent was subsequently dilated to 14 mm.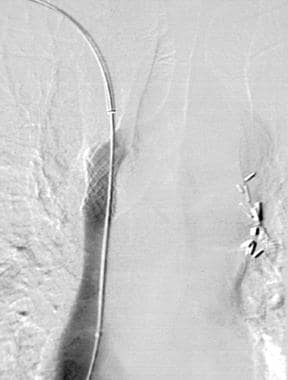 Superior vena cava syndrome (case 1, continued). Venogram obtained after stenting shows widely patent superior vena cava with no collateral drainage. Pressure measurements after stenting showed 1- to 2-mm residual gradient.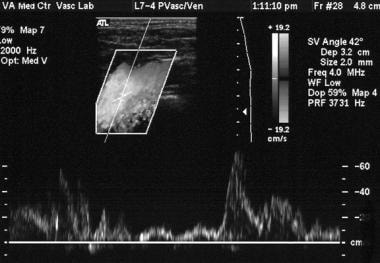 Superior vena cava syndrome (case 1, continued). Sonogram obtained 1 year after stenting shows near-normal venous pulsatility and respiratory phasicity. Patient experienced complete resolution of symptoms.
SVC stenting may provide relief of severe symptoms for patients while the histologic diagnosis of the malignancy causing the obstruction is being actively pursued. [15, 24, 30] It may also be indicated in patients in whom chemotherapy or radiation has failed. [31, 32, 33]
There is growing support for recommending stenting as a first-line treatment to be performed early in the management of SVCS. [31, 32, 33] A 2008 study by Rizvi et al concluded that stenting should be considered first-line therapy for SVCS of benign origin, with open surgical reconstruction still a good option if endovascular repair fails or is unsuitable. [34]
---
Did this answer your question?
Additional feedback? (Optional)
Thank you for your feedback!