Answer
Invasive contrast venography is the most conclusive diagnostic tool (see the image below). It precisely defines the etiology of obstruction. It is especially important if surgical management is being considered for the obstructed vena cava.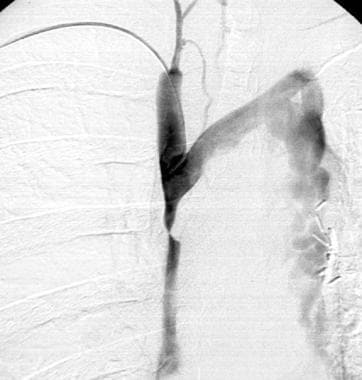 Superior vena cava syndrome (case 1, continued). Venogram shows almost complete occlusion of superior vena cava with dramatic collateral drainage through left superior intercostal vein.
Radionuclide technetium-99m venography is an alternative minimally invasive method of imaging the venous system. Although images obtained by this method are not as well defined as those achieved with contrast venography, they demonstrate potency and flow patterns. [21]
---
Did this answer your question?
Additional feedback? (Optional)
Thank you for your feedback!