Answer
A CT scan of the chest is the initial test of choice to determine whether an obstruction is due to external compression or due to thrombosis. The additional information is necessary because the involvement of these structures requires prompt action for relief of pressure. (See the images below.)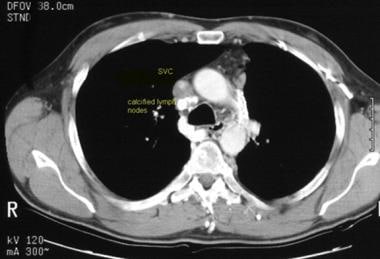 Superior vena cava syndrome (case 1). Patient was 35-year-old man with 3-year history of progressive upper-extremity and fascial swelling. Patient had undergone treatment for histoplasmosis in the past. CT shows narrowed superior vena cava with adjacent calcified lymph nodes and posterior soft-tissue thickening.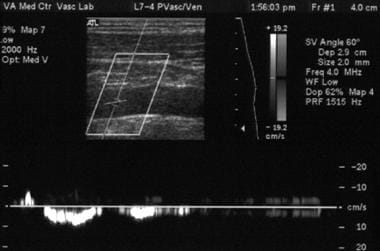 Superior vena cava syndrome (case 1, continued). Sonogram shows markedly damped venous waveform with complete loss of normal venous pulsatility and minimal respiratory variation.
---
Did this answer your question?
Additional feedback? (Optional)
Thank you for your feedback!