Answer
Although poorly understood, the development of FES is attributed to a series of biochemical cascades resulting from the mechanical insult sustained in major trauma. Release of fat emboli leads to occlusion of the microvasculature, triggering an inflammatory response that is clinically manifested by dermatologic, pulmonary, and neurologic dysfunction. [4, 5] (See the images below.)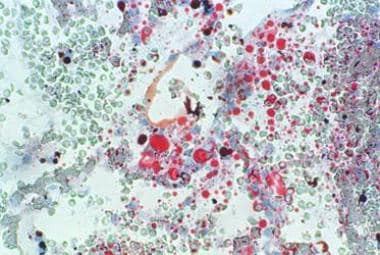 Frozen section of lung stained with oil red O showing multiple orange red fat globules of varying sizes in septal vasculature. Image courtesy of Dr AVC Rao, Senior Lecturer in Pathology, The University of the West Indies at St Augustine, Trinidad and Tobago. Originally published in Journal of Orthopaedics (http://www.jortho.org/2008/5/4/e8/).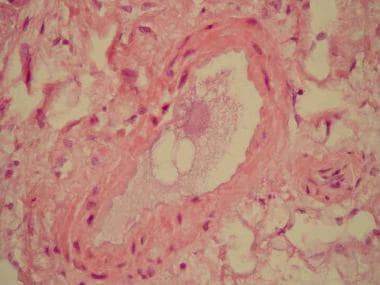 Hematoxylin-eosin stain of section of lungs showing blood vessel with fibrinoid material and optical empty space indicative of presence of lipid dissolved during staining process. This 55-year-old woman died of massive fat embolism after developing pancreatitis due to endoscopic retrograde cholangiopancreatography. Image courtesy of Wikimedia Commons. Originally published in Kanen BL, Loffeld RJLF. Pancreatitis with an unusual fatal complication following endoscopic retrograde cholangiopancreaticography: a case report. Journal of Medical Case Reports. 2008;2:215.
---
Did this answer your question?
Additional feedback? (Optional)
Thank you for your feedback!