Answer
The actual cholesterol crystals are dissolved during fixation, leaving intra-arterial biconvex ghosts. Often, the crystals are missed because the depth of the tissue sample is inadequate. If these ghosts are absent, the diagnosis still may be inferred from the presence of fibrinoid necrosis (see the image below) and a foreign-body reaction in tissues commonly involved by atheromatous emboli in a patient with consistent clinical findings. Exuberant adventitial fibrosis contributes to vessel lumen occlusion.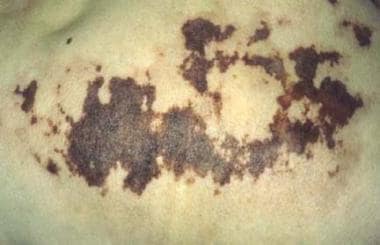 Necrosis of the abdominal wall in a patient with cholesterol embolism syndrome who received anticoagulation.
---
Did this answer your question?
Additional feedback? (Optional)
Thank you for your feedback!