Answer
With the first mechanism, cholesterol crystals spontaneously break off from severely atherosclerotic plaques and shower into downstream organs, occluding arterioles 100-200 μm in diameter. The crystals induce an inflammatory foreign-body reaction and adventitial fibrosis, which eventually obliterate the vessel lumen. Local vasospastic mediators compound tissue ischemia and produce progressive, irreversible organ damage.
With the second mechanism, larger cholesterol plaques break off and occlude larger arteries, causing tissue infarction with acute organ dysfunction. This can occur after local trauma to the atherosclerotic plaque, such as that caused by angiography or aortic trauma, or it can occur after destabilization of the protective clot overlying the plaque, which can occur as a result of anticoagulation.
Cholesterol crystal embolization (see the image below) occurs from the arterial system, and crystals are trapped in the arterioles, where they either immediately occlude the vessels or induce an intense inflammatory response that leads to tissue ischemia. Crystals do not travel to the lungs; however, inflammatory mediators released by ischemic tissue may result in acute lung injury.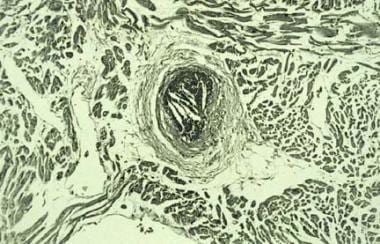 Cholesterol crystal embolization from upstream coronary artery plaque after percutaneous transluminal coronary angioplasty.
---
Did this answer your question?
Additional feedback? (Optional)
Thank you for your feedback!