Answer
The pathophysiology of diabetic peripheral neuropathy is multifactorial and is thought to result from vascular disease occluding the vasa nervorum; endothelial dysfunction; deficiency of myoinositol-altering myelin synthesis and diminishing sodium-potassium adenine triphosphatase (ATPase) activity; chronic hyperosmolarity, causing edema of nerve trunks; and effects of increased sorbitol and fructose. [12]
Motor dysfunction of peripheral nerves in diabetic neuropathy leads to muscular imbalances in the diabetic foot. Muscle wasting of the intrinsic pedal muscles leads to overpowering of the spared extrinsic muscles, which results in significant forefoot deformities such as claw toes or hammer toes. [13, 14] Autonomic dysfunction of the peripheral nervous system may lead to sudomotor dysfunction. This will result in dry, cracked skin, which is more prone to injury and breakdown. [15]
The result of loss of sensation in the foot is repetitive stress; unnoticed injuries and fractures; structural foot deformity, such as hammertoes, bunions, metatarsal deformities, or Charcot foot (see the image below); further stress; and eventual tissue breakdown. Unnoticed excessive heat or cold, pressure from a poorly fitting shoe, or damage from a blunt or sharp object inadvertently left in the shoe may cause blistering and ulceration. These factors, combined with poor arterial inflow, confer a high risk of limb loss on the patient with diabetes.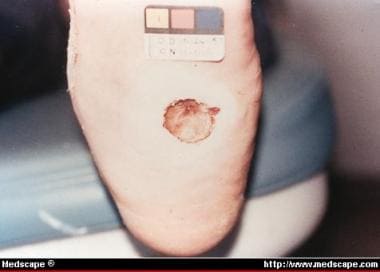 Charcot deformity with mal perforans ulcer of plantar midfoot.
See Diabetic Neuropathy for more information.
---
Did this answer your question?
Additional feedback? (Optional)
Thank you for your feedback!