Answer
Surgical treatment options, typically reserved for patients with more severe disease or those in whom nonsurgical management fails, include the following:
Open bypass surgery

Endovascular therapy (eg, stenting, balloon angioplasty, or atherectomy)
Whereas open surgery dominated the treatment options two decades ago, endovascular management of PAOD has become exponentially more popular since then (see the image below). [22]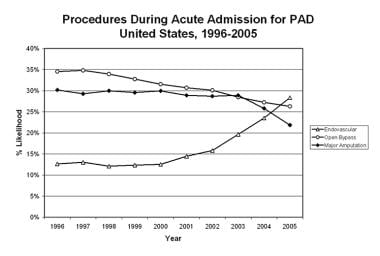 Peripheral arterial occlusive disease. Procedures performed during acute admission for peripheral arterial disease in US from 1996 to 2005. Reprinted from Journal of Vascular Surgery, Vol 49(4), Rowe VL et al, Patterns of treatment for peripheral arterial disease in the United States: 1996-2005, Pages 910-7, Apr 2009, with permission from Elsevier.
---
Did this answer your question?
Additional feedback? (Optional)
Thank you for your feedback!