Answer
Angiography is still the criterion standard arterial imaging study for the diagnosis of PAOD (see the image below). However, this test is usually reserved for when an intervention (either an endovascular procedure or a traditional open surgical procedure) is planned.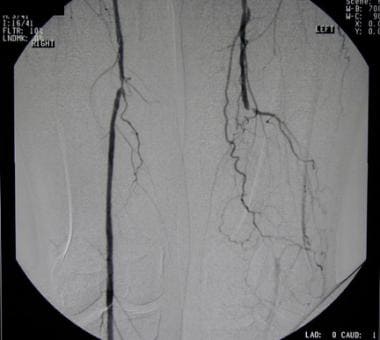 Peripheral arterial occlusive disease. Angiogram shows superficial femoral artery occlusion on one side (with reconstitution of suprageniculate popliteal artery) and superficial femoral artery stenosis on other side. This is most common area for peripheral vascular disease.
Patients undergoing vascular surgery are known to be at high risk for cardiovascular complications and mortality. In a study comparing systematic (routine) coronary angiography with selective coronary angiography in patients undergoing surgical treatment of PAOD, Monaco et al found that routine angiography had a positive impact. [9] Routine coronary angiography improved survival significantly, and no deaths or cardiovascular events were reported. Multicenter trials are needed to confirm this finding in a larger population.
---
Did this answer your question?
Additional feedback? (Optional)
Thank you for your feedback!