Answer
Claudication, which is defined as reproducible ischemic muscle pain, is one of the most common manifestations of peripheral arterial occlusive disease (PAOD) caused by atherosclerosis. Claudication occurs during physical activity and is relieved after a short rest. Pain develops because of inadequate blood flow.
Angiography is the criterion standard arterial imaging study for the diagnosis of PAOD. The image below depicts a superficial femoral artery occlusion.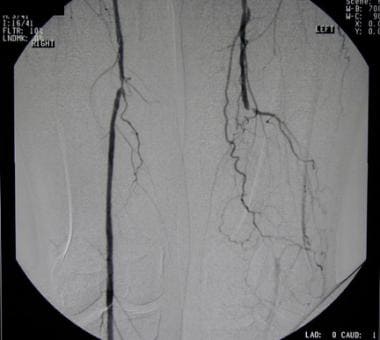 Peripheral arterial occlusive disease. Angiogram shows superficial femoral artery occlusion on one side (with reconstitution of suprageniculate popliteal artery) and superficial femoral artery stenosis on other side. This is most common area for peripheral vascular disease.
---
Did this answer your question?
Additional feedback? (Optional)
Thank you for your feedback!