Answer
The hallmark angiographic findings in patients with TAO are nonatherosclerotic, segmental occlusive lesions of the small and medium-sized vessels (eg, digital, palmar, plantar, tibial, peroneal, radial, and ulnar arteries) with formation of distinctive small collateral vessels around areas of occlusion, known as corkscrew collaterals (see the image below). These corkscrew collaterals represent dilated vasa vasorum of the occluded arteries, which are now serving to provide distal perfusion, albeit at significantly higher resistance than the native vasculature.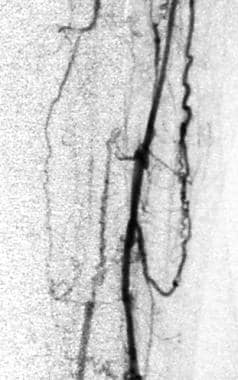 Lower-extremity arteriogram of peroneal and tibial arteries of patient with thromboangiitis obliterans (Buerger disease) demonstrates classic findings of multiple small and medium-sized arterial occlusions with formation of compensatory "corkscrew collaterals."
Such arteriographic findings suggest TAO but are not pathognomonic, because similar lesions can be observed in patients with scleroderma, CREST (calcinosis cutis, Raynaud phenomenon, esophageal motility disorder, sclerodactyly, and telangiectasia) syndrome, systemic lupus erythematosus, rheumatoid vasculitis, mixed connective-tissue disease, antiphospholipid-antibody syndrome, and even diabetes mellitus.
---
Did this answer your question?
Additional feedback? (Optional)
Thank you for your feedback!