Answer
Patients with TAO can develop painful ulcerations (see the image below) or frank gangrene of the digits. The hands and feet of patients with the disease are usually cool and mildly edematous.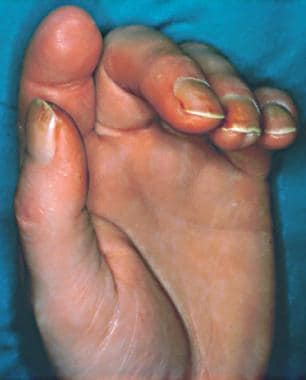 Tobacco smoke stains on male patient's fingers suggest diagnosis of thromboangiitis obliterans (Buerger disease). Patient presented with small, painful ulcers on tips of thumb and ring finger.
Superficial thrombophlebitis (often migratory) occurs in almost half of patients with TAO (see the image below). Paresthesias (numbness, tingling, burning, hypoesthesia) of the feet and hands and impaired distal pulses in the presence of normal proximal pulses are usually found in patients with severe disease. More than 80% of patients present with involvement of three or four limbs.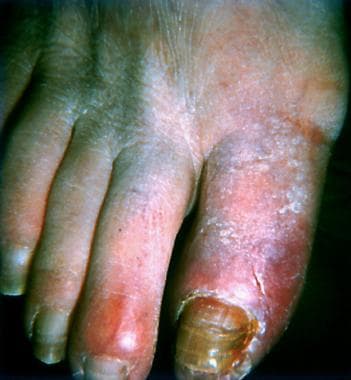 Superficial thrombophlebitis of great toe in patient with thromboangiitis obliterans (Buerger disease).
---
Did this answer your question?
Additional feedback? (Optional)
Thank you for your feedback!