Answer
The International Continence Society recommends using the following 2 standard points for compliance calculations [1] :
The detrusor pressure at the start of bladder filling and the corresponding bladder volume (usually zero)
The detrusor pressure (and corresponding bladder volume) at cystometric capacity or immediately before the start of any detrusor contraction that causes significant leakage
Detrusor overactivity is a urodynamic observation characterized by involuntary detrusor contractions during the filling phase, which may be spontaneous or provoked (see in the image below).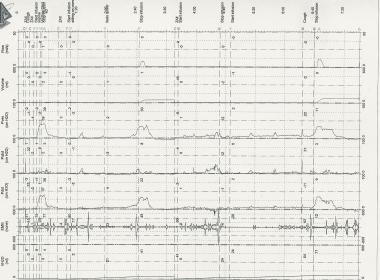 Urodynamic study demonstrating detrusor overactivity.
Phasic detrusor overactivity is defined by a characteristic wave form and may not lead to urinary incontinence. Terminal detrusor overactivity is a single involuntary detrusor contraction occurring at cystometric capacity. It cannot be suppressed and results in incontinence, usually resulting in bladder emptying (voiding). Detrusor overactivity incontinence due to an involuntary detrusor contraction at any point during filling.
---
Did this answer your question?
Additional feedback? (Optional)
Thank you for your feedback!