Answer
Dysfunctional voiding refers to an inability to relax the urinary sphincter or pelvic floor muscles fully during voiding. Unlike people with detrusor-sphincter dyssynergia, people with dysfunctional voiding do not have an underlying neurologic abnormality. Children with dysfunctional voiding typically present with a history of urinary incontinence, recurrent urinary tract infections (UTIs), and constipation.
Although thought to be primarily a voiding phase disorder, dysfunctional voiding may develop in some children with OAB because of overactivity of the pelvic floor muscles in response to attempts to control uninhibited detrusor contractions. In most children, however, it is believed to be a learned condition that occurs during the toilet-training years. It may develop after episodes of dysuria, UTIs, constipation, or prior sexual abuse.
These children typically have either a staccato voiding pattern characterized by periodic bursts of pelvic floor muscle activity during voiding and a prolonged voiding time or an interrupted voiding pattern characterized by incomplete and infrequent voiding with micturition in separate fractions (see the image below).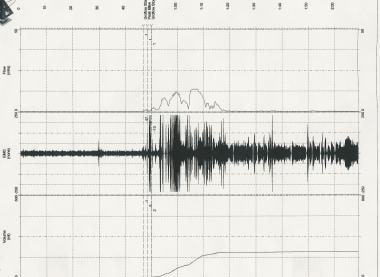 Uroflow and electromyography (EMG) study demonstrating dysfunctional voiding: staccato flow pattern and failure to relax sphincter during voiding.
---
Did this answer your question?
Additional feedback? (Optional)
Thank you for your feedback!