Answer
The symptoms of OAB are believed to be caused by detrusor overactivity during the filling phase, which causes urgency (see the image below). [2] These detrusor contractions are countered by voluntary contraction of the pelvic floor muscles in an attempt to postpone voiding and to minimize wetting. The voiding phase is essentially normal but may be associated with a powerful detrusor contraction during voiding. Childhood incontinence in girls has been noted to be a risk factor for urge symptoms and severe incontinence in adult women. [3]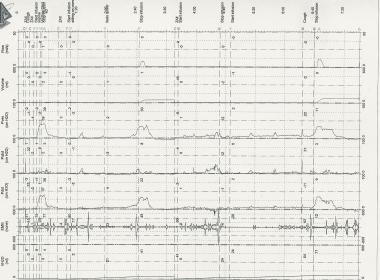 Urodynamic study demonstrating detrusor overactivity.
The natural history of OAB is not well understood. Many believe that idiopathic OAB in children is the result of a maturation delay and that it resolves over time. This belief is in contrast to the theory behind OAB in adults, in whom the condition is believed to be chronic.
---
Did this answer your question?
Additional feedback? (Optional)
Thank you for your feedback!