Answer
Prostatitis, from a pathologist standpoint, is an increased number of inflammatory cells within the prostatic parenchyma. As with inflammatory markers in urine, inflammation of the prostate is not specific to prostatitis and can be found in patients without prostate disease. Therefore, biopsy is rarely used to diagnose prostatitis. Biopsies done to evaluate for prostate cancer commonly show chronic inflammation and if patients area asymptomatic they are categorized as IV prostatitis (asymptomatic inflammatory prostatitis) (See the image below.)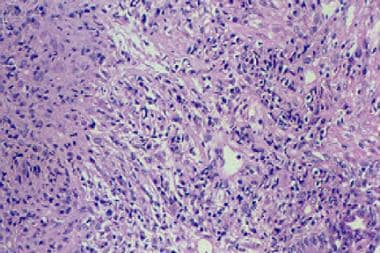 A nonspecific, mixed inflammatory infiltrate that consists of lymphocytes, plasma cells, and histiocytes is typical in chronic bacterial prostatitis.
Inflammation of the prostate tends most commonly follows a pattern of stromal lymphocytic infiltrates adjacent to acini, but varies and may also include glandular or periglandular inflammation in patient with chronic prostatitis. [1]
Prostatic calculi may also be associated with inflammation as they obstruct prostatic ducts limiting drainage or provide a nidus for bacteria, which can contribute to inflammation.
---
Did this answer your question?
Additional feedback? (Optional)
Thank you for your feedback!