Answer
Answer
Guidelines from the NCCN [23] and the European Association of Urology [17] note that evidence supports the use of multi-parametric MRI (mpMRI)—that is, the combination of T2-weighted images with diffusion-weighted imaging, dynamic contrast enhanced imaging, or H1-spectroscopy—in prostate cancer staging. The advantages of mpMRI include the following [23] :
Detection of large and poorly differentiated tumors (ie, Gleason score ≥7)

T staging: Detection of extracapsular extension, with high negative predictive values in low-risk men

N staging: MpMRI is equivalent to CT scan

M staging: MpMRI outperforms bone scan and targeted x-rays for M staging, with 98-100% sensitivity and specificity
Although MRI is superior to bone scanning in evaluating bone metastasis, it is impractical for routine total-body surveys. Instead, it is used to determine the etiology of questionable lesions found on bone scans. Bone-scan examples are seen below.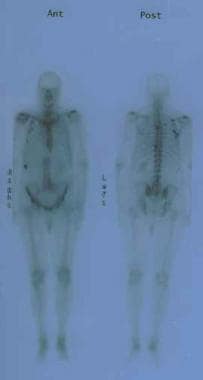 Anterior and posterior bone scans of a patient with prostate cancer, with metastasis to the 12th rib and thoracic spine represented by the increased uptake of isotope.
---
Did this answer your question?
Additional feedback? (Optional)
Thank you for your feedback!