Answer
Answer
The most commonly used system for classifying the histologic characteristics of prostate cancer is the Gleason scoring system, which uses the glandular architecture within the tumor.
The predominant pattern and the second-most common pattern (seen in the image below) are each given a grade of between 1 and 5. The Gleason score is the sum of these 2 grades. Scoring based on the 2 most common patterns is an attempt to factor in the considerable heterogeneity within cases of prostate cancer. In addition, this scoring method was found to be superior for predicting disease outcomes compared with using the individual grades alone.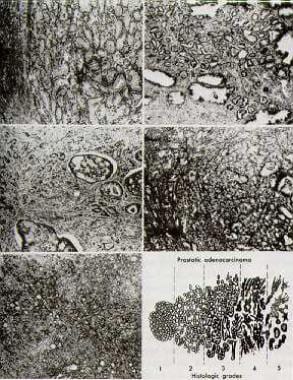 Histologic scoring system (the Gleason scoring system) showing the 2 most common patterns seen on biopsy specimens in prostate cancer.
Grades are based on the extent to which the epithelium assumes a normal glandular structure. A grade of 1 indicates a near-normal pattern, and grade 5 indicates the absence of any glandular pattern (less malignant to more malignant). This scheme of grading histologic features greatly depends on the skill and experience of the pathologist and is subject to some degree of individual variation.
---
Did this answer your question?
Additional feedback? (Optional)
Thank you for your feedback!