Answer
Answer
The prostate lies below the bladder and encompasses the prostatic urethra. It is surrounded by a capsule and is separated from the rectum by a layer of fascia termed the Denonvilliers aponeurosis. The position of the prostate in the male genitourinary tract is shown in the image below.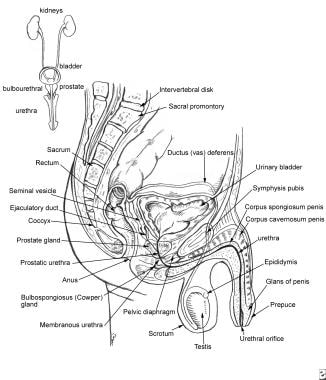 Relevant anatomy of the male pelvis and genitourinary tract.
The blood supply to the base of the bladder and prostate is from the inferior vesical, which is derived from the internal iliac. The capsular branches of the inferior vesical artery help to identify the pelvic plexus arising from the S2-S4 and T10-T12 nerve roots.
The neurovascular bundle lies on either side of the prostate on the rectum. It is derived from the pelvic plexus and is important for erectile function.
---
Did this answer your question?
Additional feedback? (Optional)
Thank you for your feedback!