Answer
Answer
Prostate cancer is the most common noncutaneous cancer in men, making the diagnosis and staging of this cancer of great medical and public interest. Although prostate cancer can be slow growing, the disease nonetheless accounts for almost 10% of cancer-related deaths in mens, with thousands dying from prostate cancer each year.
With the development of prostate-specific antigen (PSA) screening, however, prostate cancer is being diagnosed earlier in the disease course than it was prior to PSA examination.
Currently, most cases of prostate cancer are found because of abnormalities in a screening PSA level or findings on digital rectal examination (DRE) rather than because of symptoms (see Prostate-Specific Antigen). In addition, prostate cancer can be an incidental pathologic finding when tissue is removed during transurethral resection to manage obstructive prostatic symptoms (see Benign Prostatic Hypertrophy).
The American Cancer Society (ACS) estimated that 240,890 new cases of prostate cancer were diagnosed in the United States in 2011 and that 33,720 men died of the disease in that year. (See the chart below.) Comparable ACS estimates for 2019 are 174,650 new cases and 31,620 deaths. [7]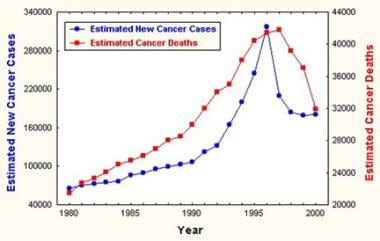 Estimated incidence of and mortality from prostate cancer. Courtesy of the American Cancer Society.
---
Did this answer your question?
Additional feedback? (Optional)
Thank you for your feedback!