Answer
Each of the following should be obtained in a suspected case of upper tract TCC:
Cystoscopy – To rule out bladder tumor

Urinary cytology

CT urography
For cystoscopy, a small fiberoptic scope is inserted through the urethra in order to visualize the bladder. This ambulatory/clinical procedure is usually well tolerated by both women and men. A 16F flexible cystoscope is typically used in men, whereas women can undergo either rigid or flexible cystoscopic examination. This procedure is mandatory to rule out coexistent bladder lesions, which occur with a frequency of 8-13%. [1] Cystoscopy is also essential for postoperative surveillance to monitor for bladder tumor development; recurrence in the bladder occurs 15-51% of patients. [21]
In retrograde urography (see image below), contrast is injected into the ureteral orifice with the aid of a cystoscope. This can be performed with fluoroscopic guidance or with standard radiography plates. Retrograde urography allows better visualization of the collecting system than excretory urography by increasing the distention of the urinary collecting system. Retrograde pyelography is preferable in patients with azotemia and/or contrast allergy. Overall, retrograde urography is more than 75% accurate in establishing a diagnosis of urothelial cancer.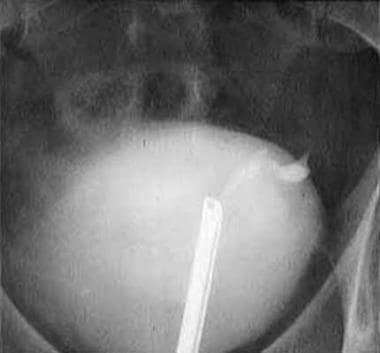 Left retrograde ureterogram demonstrating the classic "goblet" sign of ureteral upper tract urothelial carcinoma (UTUC). Ureteral dilation distally and proximally to the tumor is present. The narrowed wall of the ureter is irregular. Courtesy of Andrew J. Taylor, MD, University of Wisconsin Medical School.
Since the advent of rigid and flexible ureteroscopes, ureteropyeloscopy is used increasingly for the diagnosis of upper tract urothelial tumors. Biopsy forceps or cytology brushings can be used to collect tissue. This procedure yields an accuracy of 86% in diagnosing renal pelvis tumors and 90% in diagnosing ureteral tumors. Large size, broad base, and nonpapillary pattern favor tumor invasiveness. Studies have demonstrated that 85% of TCC lesions in the renal pelvis are papillary. The complication rate associated with ureteropyeloscopy is approximately 7%; these include perforation, complete disruption, and ureteral stricture.
Percutaneous nephroscopy is not indicated for the diagnosis of urothelial tumors of the renal pelvis and ureters because of the theoretical risk of tumor cell implantation in the retroperitoneum and nephrostomy tube tract. It is used for treatment in selected situations.
Nevertheless, Huang et al concluded that percutaneous biopsy is safe and effective for diagnosis of upper tract urothelial lesions that are not amenable to endoscopic biopsy. In their study of 26 upper tract lesions in 24 patients, percutaneous biopsy provided tissue diagnosis in 85% of cases; the three recurrences in the nephrectomy bed developed at sites remote from the biopsy site and thus were not attributed to tract seeding. [22]
---
Did this answer your question?
Additional feedback? (Optional)
Thank you for your feedback!