Answer
Noncontrast CT scanning can be performed, followed by a contrast study, with particular interest in the excretory phase — a so-called CT urogram. Plain radiography, which demonstrates drainage and anatomy, can also be performed after CT scanning. Transitional cell carcinomas (TCCs) are usually visible as an irregular filling defect. They tend to be hypovascular in comparison with the rest of the kidney and demonstrate minimal increased attenuation (enhancement) following intravenous contrast injection. See the images below.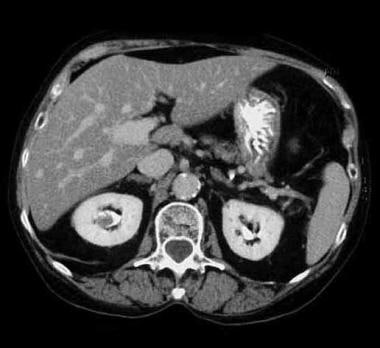 CT scan demonstrating right renal pelvis upper tract urothelial carcinoma (UTUC). Contrast in the renal pelvis is displaced by the tumor. Courtesy of Andrew J. Taylor, MD, University of Wisconsin Medical School.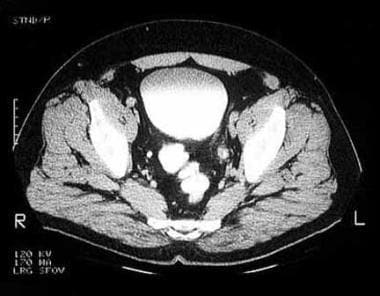 CT scan demonstrating left distal ureteral upper tract urothelial carcinoma (UTUC). The left ureter is dilated and a medial filling defect is noted. Courtesy of Andrew J. Taylor, MD, University of Wisconsin Medical School.
CT scanning sensitivities and specificities based on lesion size are as follows:
For lesions 5-10 mm in size - 96% sensitivity and 99% specificity

For lesions smaller than 5 mm in size - 89% sensitivity

For lesions smaller than 3 mm in size - 40% sensitivity
CT scanning has limited value in staging TCC because stage Ta or superficial lesions cannot be differentiated from T2 or invasive lesions (see Staging). However, CT scanning is helpful in demonstrating peripelvic or periureteral tumor extension, thereby assisting with staging of aggressive disease. Hydronephrosis and obstruction are associated with a higher degree of invasiveness.
As with CT scanning, magnetic resonance imaging (MRI) is also of limited use in staging early TCC; however, it may have greater utility in more advanced disease or in patients with limited renal function. European Association of Urology guidelines note that although CT urography is generally preferred to MRI urography for diagnosing and staging, MR urography is indicated in patients who cannot undergo CT urography, usually when radiation or iodinated contrast media are contraindicated. However, the use of MR urography with gadolinium-based contrast media should be limited in patients with severe renal impairment (creatinine clearance < 30 mL/min), due to the risk of nephrogenic systemic fibrosis. [1]
---
Did this answer your question?
Additional feedback? (Optional)
Thank you for your feedback!