Answer
Excretory urography, commonly referred to as intravenous pyelography (IVP), has traditionally been used to evaluate the upper urothelial tract, but has been primarily replaced with multidetector computed tomography (CT). [13, 14] Approximately 50-75% of patients with urothelial tumors of the renal pelvis and ureters have a radiolucent filling defect that is characteristically irregular and in continuity with the wall of the collecting system. (See the image below.) Approximately 10-30% of such tumors cause obstruction or nonvisualization of the collecting system.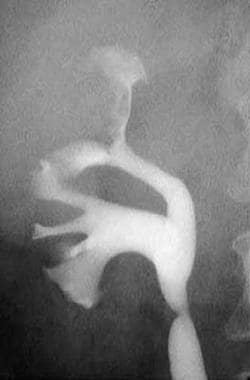 Intravenous pyelogram (IVP) demonstrating an upper calyx filling defect characteristic of upper tract urothelial carcinoma (UTUC). Blunting of the involved calyx is noted. Courtesy of Andrew J. Taylor, MD, University of Wisconsin Medical School.
---
Did this answer your question?
Additional feedback? (Optional)
Thank you for your feedback!