Answer
BUN and creatinine levels should be checked when poor renal function, obstructed ureters, or urinary retention is suggested. This is especially important in the case of a stage III or stage IV cystocele.
In stage III cystocele, the bladder protrudes out of the vaginal introitus to greater than 1 cm outside of the hymenal ring upon abdominal strain; in stage IV cystocele, the bladder protrudes out of the vagina to greater than 3 cm from the hymen with the patient at rest (see the image below). When the bladder herniates out of the vagina, it may drag ureters with it. Both ureters can become trapped and obstructed at the bony pelvis, causing hydroureteronephrosis. This results in elevated BUN and azotemia.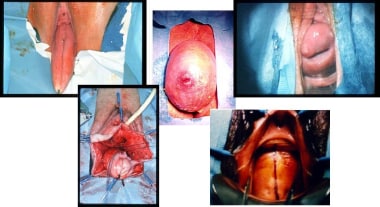 This photo illustrates a variety of pelvic organ prolapses, including grade-IV cystocele, uterine descensus, enterocele, and rectocele alone or in combination. In situations where a significant prolapse (eg, uterus, bladder) has occurred, evaluate for possible ureteral obstruction at the level of the pelvic inlet.
---
Did this answer your question?
Additional feedback? (Optional)
Thank you for your feedback!