Answer
A critical part of the pelvic examination is direct observation of urine loss using the cough stress test. This test evaluates stress-induced leakage when the bladder is full. This test is very sensitive but can be misleading in inhibited patients and in those with low bladder volume. [52]
The cough stress test is performed by filling the bladder with sterile fluid at least halfway (eg, 200-250 mL). Have the patient in the lithotomy position or standing. While directly visualizing the urethra, instruct the patient to bear down (Valsalva) or cough. Observation of leakage during Valsalva maneuver or cough denotes a positive test result.
Urine loss directly observed from the urethral meatus at the peak of the increase in intra-abdominal pressure is strongly suggestive of stress incontinence (see the image below). Characteristically, patients with stress incontinence display immediate loss of a few drops to a brief squirt of urine. Delayed loss or prolonged loss raises the question of stress-induced detrusor instability.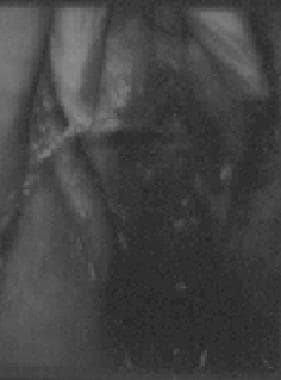 A squirt of urine is observed at the peak of an increase in intra-abdominal pressure in a supine patient
If no urine loss is observed, the test can be repeated with the patient in another position or repeated at another date. If more than mild pelvic organ prolapse is present, reduction of the prolapse should be performed with a half speculum, a pessary, or the examining fingers during the stress test. Care must be taken not to compress the urethra, regardless of which reduction method is used.
A small study showed that when the diagnosis of stress urinary incontinence was made on the basis of a negative finding on cystometrogram and a positive result on cough stress test, the reproducibility of a positive stress test result 1-4 weeks later was 100%. [55] If the initial diagnosis was mixed incontinence, stress leakage was demonstrated on a second cough stress test 80% of the time. Conversely, if the initial diagnosis was detrusor instability with a negative result on cough stress test, the repeat cough stress test result was negative 86% of the time.
The authors point out that in the setting of pure stress incontinence, the cough stress test may be more useful than complex urodynamic cough profiles. Some believe that, in some cases, the presence of catheters may be sufficiently obstructive to cause a small number of false-negative test results. If mixed incontinence is diagnosed by a cystometrogram and cough stress test, more complex testing may be required to confirm the diagnosis. False-positive stress test results due to cough-induced detrusor overactivity may occur in this situation.
Positive stress test findings in the supine position with a relatively empty bladder and with position change or other minimal increases in intra-abdominal pressure raise the question of intrinsic sphincter deficiency. Complex urodynamic testing would be indicated in such cases. Pad testing can be used if the history strongly suggests stress incontinence, stress test findings are negative, and detrusor instability is ruled out.
---
Did this answer your question?
Additional feedback? (Optional)
Thank you for your feedback!