Answer
The cotton swab test is used to assess urethral mobility in women. To perform the test, place the patient in a dorsal lithotomy position. Make sure the examining table is parallel to the floor. Insert a lubricated sterile cotton swab through the urethra until the cotton portion is completely in the bladder. Then, gently pull back on the cotton swab until the cotton is snug against the bladder neck. The swab is pulled back until increased resistance is met, indicating that the cotton tip is entering the urethra.
Women with normal pelvic anatomy should have a resting cotton-swab angle of 0° with respect to the floor. The patient then is instructed to perform a Valsalva maneuver or to contract the abdominal muscles. Having the patient put forth a maximal effort is important. The examiner should not use a posterior vaginal retractor. Part the labia if the tissue is touching the wooden shaft of the swab because this may impair movement during straining.
The change in angle when the swab is deflected upward with maximal strain, indicated by the arc of the wooden end of the swab, is measured with a goniometer or estimated visually. A change of greater than 30° indicates urethral hypermobility. (See the images below.)
A positive finding does not confer a specific diagnosis, and older women have a high false-negative rate. [52] However, hypermobility is present in most cases of stress incontinence. If hypermobility is not present and stress incontinence is diagnosed, intrinsic sphincter deficiency should be suspected.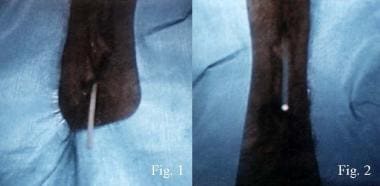 A cotton swab angle greater than 30° denotes urethral hypermobility. Figure 1 shows that the cotton swab at rest is zero with respect to the floor. Figure 2 shows that the cotton swab at stress is 45° with respect to the floor.
A study that used receiver-operating characteristic analysis of the swab test found that the optimal cut-off point for the change in angle from resting to straining was 30° or more, which had a sensitivity of 82% and a specificity of 54%. The very best discriminator was an absolute straining angle of 40° or more, which had a sensitivity of 83% and specificity of 64%. [53] No resting angle value had sufficient discriminatory power to be useful.
The authors cautioned that the cotton swab test does not have sufficient discriminatory power to make urodynamics unnecessary. They do believe that the test has a role in conjunction with urodynamics and may be used as a screening test in situations where urodynamic testing is not readily available.
---
Did this answer your question?
Additional feedback? (Optional)
Thank you for your feedback!