Answer
The presence of inflammation in the bladder is believed to result in bladder muscle irritability and urge incontinence in some instances, as depicted in the image below. One study showed that approximately 8% of patients with bacterial urinary tract infections had nonneuropathic bladder instability. If bacterial infection and detrusor overactivity coexist, successful treatment of the infection results in resolution of the detrusor overactivity in about one half of the patients.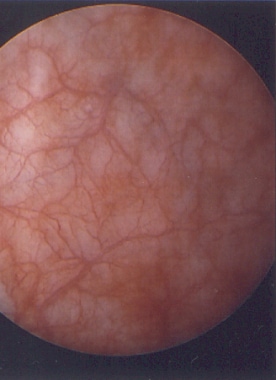 A cystoscopic view of the bladder mucosa reveals shallow ulcerations and petechial hemorrhages-findings consistent with interstitial cystitis.
Nonbacterial inflammatory conditions of the bladder, including interstitial cystitis, have been associated with detrusor overactivity. Foreign bodies, including permanent sutures, bladder stones, and neoplasms, also have been linked to bladder irritability and instability.
---
Did this answer your question?
Additional feedback? (Optional)
Thank you for your feedback!