Answer
Traditionally, RCC is diagnosed after any or all of the classic triad of symptoms, ie, flank pain, palpable mass, and hematuria, have been investigated (see image below). However, with the increased use of imaging techniques over the past 2 decades, up to 72% of RCC cases are identified incidentally after investigation for unrelated abdominal pain or other non-urologic symptoms.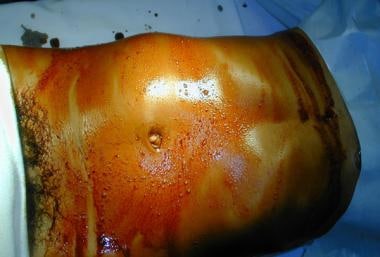 Large right renal tumor visible as an abdominal mass.
Presenting symptoms may be related to bleeding in the tumor, resulting in stretching of the renal capsule and pain. Bleeding into the collecting system also causes pain due to clot formation and ureteral obstruction. Local invasion and clot extension into the vena cava is suspected in patients presenting with lower extremity edema, varicocele, dilated superficial abdominal veins, proteinuria, pulmonary embolism, a right atrial mass, or no function in the involved kidney.
Lack of early warning signs characterizes RCC, resulting in a high proportion (one third) of patients with metastases at diagnosis. These patients face a dismal prognosis; the 5-year survival rate is less than 10% and the average survival is only 6-12 months. Weight loss, fever, and night sweats may suggest metastasis.
---
Did this answer your question?
Additional feedback? (Optional)
Thank you for your feedback!