Answer
In 1987, Rowland and associates introduced the Indiana pouch, which is the most commonly used continent cutaneous diversion technique. Approximately 30-40 cm of cecum and ascending colon are isolated with approximately 10 cm of terminal ileum. The colon is detubularized. The terminal ileum is plicated to the size of a 14F catheter with a GIA stapler. The ileocecal valve is buttressed and imbricated as a continence mechanism. The cecum is folded down, shaped into a spherical reservoir, and closed with 2-0 running absorbable suture. The ureterointestinal anastomoses are placed on the posterior colonic wall and stented perioperatively. A cecostomy tube is placed to drain the pouch and to provide for postoperative irrigation, as needed. The estimated rate of daytime continence is 93% and nocturnal continence, 76%.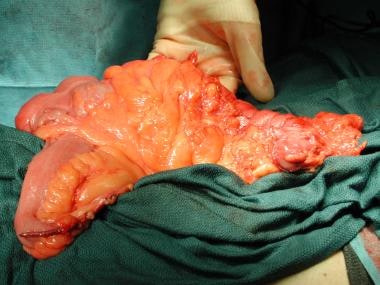 The bowel segment of the Indiana pouch includes the entire ascending colon, a small portion of the transverse colon, and about 7-8 cm of the terminal ileum.
---
Did this answer your question?
Additional feedback? (Optional)
Thank you for your feedback!