Answer
The curative management of renal cell carcinoma (RCC) remains surgical (see the image below). Recent advances in preoperative staging, specifically modern imaging techniques, and improvements in surgical techniques have made nephron-sparing surgery (NSS) an attractive alternative to radical nephrectomy in select patients.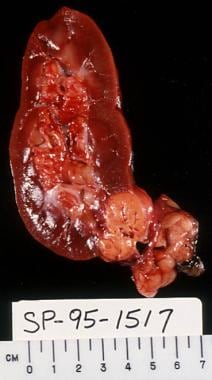 Cut section of nephrectomy specimen demonstrating renal cell carcinoma (RCC), with an adjacent simple cyst.
See Renal Cell Carcinoma: Recognition and Follow-up, a Critical Images slideshow, to help evaluate renal masses and determine when and what type of follow-up is necessary.
---
Did this answer your question?
Additional feedback? (Optional)
Thank you for your feedback!