Answer
Vacuum devices for drawing blood into the penis are a relatively inexpensive method for producing an erection that has been used for many years. These devices are plastic cylinders that are placed over the penis. Air is pumped out, causing a partial vacuum. Releasing the vacuum after a few minutes and then reapplying the vacuum sometimes gives a better result. After an erection is obtained, a constricting band is placed at the base of the penis (see the images below). [107]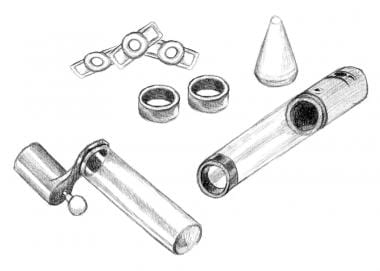 This image depicts a vacuum device used to produce an erection (also see next image). In this image, the elements are shown. They include the cylinder, a pump to create a vacuum, and a constriction ring to be placed at the base of the penis after an erection has been obtained in order to maintain the erection.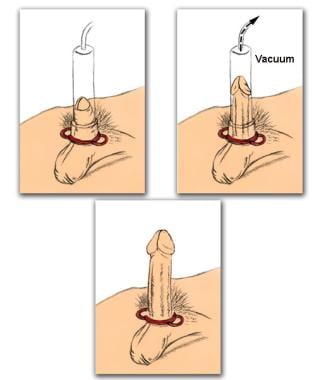 This image demonstrates the vacuum device in place (see previous image). Note the presence of the constricting ring at the base of the penis.
This technique is effective in 60-90% of patients and maintains the erection for up to 30 minutes. (In fact, the erection would last until the constricting band is released, but keeping the band in place for longer than 30 minutes is not recommended.) The devices are very reliable and seem to work better with increased use and practice. They can be operated and used quickly with experience but still tend to be less "romantic" than other therapeutic options.
Although vacuum devices are generally safe, hematomas, petechia, and ecchymosis have been reported. Other adverse effects include pain, lower penile temperature, numbness, absent or painful ejaculation, and pulling of scrotal tissue into the cylinder, where it becomes trapped under the ring. Many of these problems can be alleviated by proper selection of the tension rings and cylinders.
Drawbacks to the use of external vacuum devices include the need to assemble the equipment and the difficulty of transporting it. Many patients lose interest in using the device because of the preparations that are necessary, the lack of easy transportability, the inability to hide the tension ring, and the relative lack of spontaneity. Approximately half the men who use a vacuum device obtain very good erections, but only half of these men consistently use the device for a prolonged period.
---
Did this answer your question?
Additional feedback? (Optional)
Thank you for your feedback!