Answer
Men who have a vascular (venous) leak phenomenon may need a constriction device placed at the base of the penis to maintain their erection (see the image below). Such a device may be effective by itself or in combination with a PDE5 inhibitor. In selected cases, combination therapy with one of the PDE5 inhibitors plus an intraurethral or intracavernosal agent may be tried.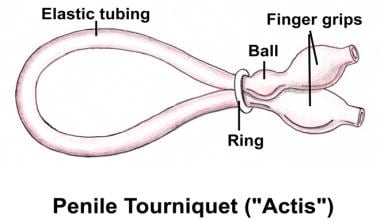 This is one of many types of constricting devices placed at the base of the penis to diminish venous outflow and improve the quality and duration of the erection. This is particularly useful in men who have a venous leak and are only able to obtain partial erections that they are unable to maintain. These constricting devices may be used in conjunction with oral agents, injection therapy, and vacuum devices.
---
Did this answer your question?
Additional feedback? (Optional)
Thank you for your feedback!